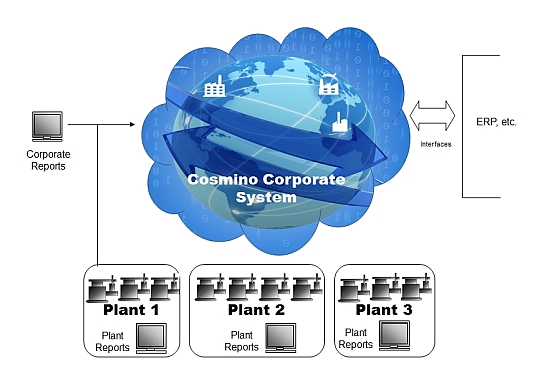 Cosmino MES Plus for Company Headquarters
The Cosmino Corporate System is a central MES for company-wide reporting and benchmarking tasks. It is used if Cosmino MES Plus is applied in several locations. The data from these decentralised installations are then collected to show figures and analyses at company level. Machines and other resources can also be compared separately from the plant hierarchy.
A central Corporate MES requires local installations at all plants. Validated data from external collection systems can be used as another data source for this system.
The distribution of master data to local installations and the bidirectional exchange with the ERP instance also takes place via the Cosmino Corporate System. In this way, plant installations do not require their own ERP connection.