Data Acquisition (PDA, MDA)
Acquisition visualising, analysing and reporting production data and machine data in relation to the order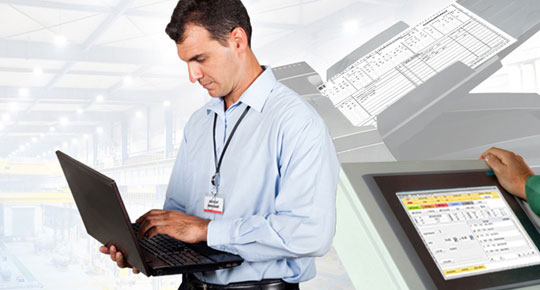 Cosmino Data Acquisition
With Cosmino data acquisition in the area of Machine Data Acquisition (MDA) and Production Data Acquisition (PDA), you collect not only data, but also obtain information. In this way, situations in production, such as plant downtimes and waiting times, can be addressed more quickly. A reporting is available for further data analysis. Bidirectional communication with ERP systems and other components of your IT infrastructures is supported by many interfaces.
Automated Transfer of Machine Signals and Visualization via Touch Screen Dialogs
Machine signals are taken over via an interface from the controls, from the relays on the controls side or via external sensors and written into the database. We would be happy to assist you with our expertise here.
Machine Data Acquisition (MDA) takes place in real time, and all machine signals are automatically given a time stamp and logged. For example, to speed up the reaction control cycle, an e-mail can be sent to maintenance when a limit value is exceeded.
Quality Reviews and Information Management
An important element of data acquisition is the visualization of the production process for the employee at each plant through a worker dialog (Cosmino WorkerPoint). The order or shift data is visualized and the current system status is even transmitted to a digital hall plan. This supplies all the information to the Shop floor Management directly.
The employee can also provide information via the online dialog, e.g. the causes of the downtimes and performance losses of a machine (Cosmino OEE).
Incorporating information to workstations and machines and triggering context-related alarms and warnings based on the recorded data can make production processes more efficient and also support them.
These can also be triggered and implemented via check-lists, maintenance operations or audits.
Qualitative reviews (inspection chart, SPC) can be carried out directly via the browser dialog.
Manual Online Acquisition
The online dialog for single system or multi-machine operation can also be used without an automated transfer of machine signals. In this case, the recording of operational data (faults, order change, maintenance, quantities) is done manually by an employee on the online dialog near the workstation.
Order-related Acquisition
Cosmino receives all the necessary information, such as order number, article, batch size, via an order download from the ERP.
After completing the production order, the operating data and machine data can then be fed back to the ERP system.
The Cosmino data recording software supports almost all common ERP interfaces.
Other Areas of Application
Learn more about the different areas of application for which you can use the various Cosmino modules and how they can boost the efficiency of your operations by browsing through our website.