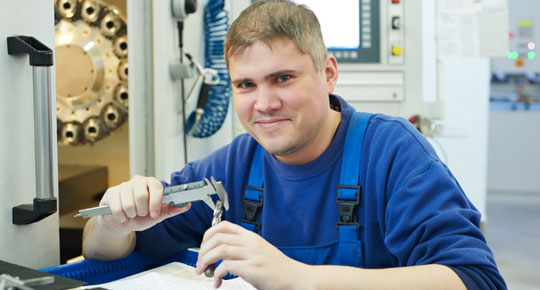 Cosmino KVP
Kaizen, SixSigma, CIP/KVP, SMED, QRQC, Heijunka, 5A/5S, Kaikaku, Andon, DOE, QFD Low Cost Automation, Value Stream Mapping, Benchmarking, Lean Management, Poka Yoke, Gemba, TPM, Chaku Chaku, Jidoka, FMEA, BVW, Kanban, Makigami…
Regardless of the methods used for working on your continuous improvement process, various modules and features of the Cosmino software can support these methods and the individual improvement process in a targeted manner.
Detecting Causes of Losses
Detecting disruptions through the equipment signals automatically transferred does not suffice for an integrated improvement process driven by the employees. The equipment control system at most knows the reason for technical disruptions, but not for the logistical disruptions or if the actual cause had already occurred before the disruption arose. This factual cause is however important for the improvement of the Overall Equipment Effectiveness (OEE) and should not be determined after the fact through tedious analyses and observations. For this reason, Cosmino uses the existing knowledge and the available capacity of the employees on site to determine the cause of the disruption immediately.
Generating Measures from Key Figures
Consideration of the causes will have already provided the initial ideas and suggestions for improvement by the employees and the resulting reports will show clear potential for improvement. Measures and suggestions for improvements will be created directly in the report and therefore automatically assigned to a key figure and other filter criteria. A seamless linkage between the improvements and the course of key figures can be created in this manner. LEAN management will benefit from a central measures database with Cosmino, which will collect all measures. This will be processed using standardized workflows like DMAIC or PDCA. Cosmino AnalyzeHelp supports the determination of solutions using various methods such as Ichikawa or 5W.
Mastering KVP Meetings
The timeframe and manufacturing area as well as the assessments will be referred in the supported meetings, and all new ideas and current measures will automatically be integrated into the meeting agenda and minutes. New measures enacted here will be transferred directly to the personnel work list of the people responsible for their execution.
Ensuring Motivation and Compliance with the Workflow
Cosmino AuditMan is available as an auditing feature precisely because the soft factors as well as compliance with the rules and employee motivation are particularly important for a continuous improvement process. Audits (5W, environment, BlindAudits etc.) will be created by the auditor on the basis of the simply created catalog of issues and control in relation to time or the situation.
Initiating Preventative Maintenance controlled by Time and Intervals
The improvement process receives additional support through the automata Ted initiation of preventative maintenance activates directly at the workstation. The people responsible for the equipment will get the request to perform a maintenance or TPM measure, whose performance must also be confirmed. This will extend the life cycle of the operating means and prevent unscheduled downtime.