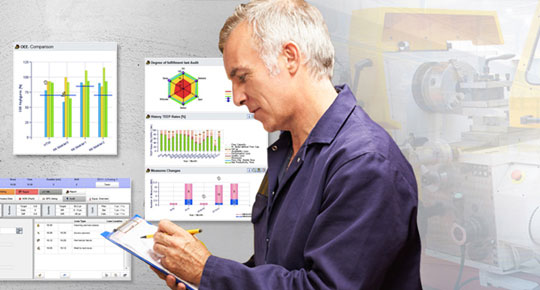 Cosmino Reporting
Cosmino's standardized, automated reporting system collects, aggregated and visualizes data from internal and external systems and distributes the resulting reports to the appropriate stakeholders. This creates a uniform data basis for all departments from the shop floor to management without data discontinuity, using clearly defined key figures and reports.
Real-time Information on the Shop Floor
The real-time dashboard shows the current status of production (such as order status and process parameters). Deviations between the expected and actual values will be displayed in order to react as needed in a timely manner.
Long-term Consideration of Fixed Intervals
Key figures over fixed intervals (such as Overall Equipment Effectiveness or OEE) serve the long-term planning and control of manufacturing as well as the improvement process. For that reason, a target management system, which will monitor the maintenance of targeted goals across all hierarchical levels and aggregation steps, has been integrated into the system.
Integrated Target and Threshold Management allows Violations to be escalated automatically
All reports can be given targets and thresholds, whose adherence will then be automatically monitored by the system. Violations will then be brought to the surface, without the need to view every single report.
Immediately Useable Reports and Custom Assessments
Standard reports have been made available for use with the software. In addition, customers can create their own reports or have our team implement them.
All Key Figures will be calculated according to the Customer's Definitions
The most successful companies work with less than ten top key figures. You decide which key figures are relevant for your company. MES key figures have already been defined in the VMDA Standards 66412-1 and 66412-2. These key figures include: employee productivity, equipment utilization, throughput, level of evidence usefulness, OEE, NEE, availability, effectiveness, quality rate, level of setup, technical usefulness level, process level, level of scrap, first pass yield (FPY), scrap rate, rework rate, fall-off rate, machine capability index (Cm), critical machine capability index (Cmk), process capability index (Cp) and critical process capability index (Cpk).
Many more key figures can be reported using Cosmino, including: rate of measures, audited level of fulfillment, tool key figures, mean time to repair (MTTR), mean time between failure (MTBF), reaction time upon disruption, TEEP, lost production contribution, lost costs, setup key figures, Pareto efficiency between the type and location of loss as well as classification of each loss of availability, of performance and of quality.
Stakeholder-oriented Visualization
All key figures will be calculated from the work center level up to the plant and group levels. Each user will see their key figures through custom dashboards. Because the reporting system is entirely browser-based, the reports can be accessed from everywhere in the plant through the internal network.
Simple Operation
The Cosmino reports are so easily understood that each employee can immediately use and understand them without training.
Each Report is a Request for Improvement Measures
Reports show the user potential for improvements. Process optimization can only be achieved by implementing measures. For this reason, Cosmino simplifies the ability to trigger an improvement measure directly from the report. Measures created will be visualized in the progression of key figures in order to detect which measures belong to which key figures and how well they are working. Even correlations between key figures can be detected in this manner.
Learning from Each Other throughout the Company
The exchange and comparison of information company-wide is made possible by the Cosmino Corporate System. For example, similar processes or similar types of equipment can be compared across the company. The continuous improvement process will benefit from a company-wide knowledge base with suggestion and measures that can also be used by other plants.
Cosmino Reporting Advantages:
Intuitive reports create transparency in manufacturing
Measurable time and cost savings through complete automation of the report creation process
Quick analysis of aggregated key figures through drilling down to the original data
Integration into SAP BW