Increase Efficiency
through transparency in the form of standardized and automatically calculated figures and analyses



Zero Defects Production
through quality assurance and workflow control


Early Warning System
based on up-to-date information and predictive analyses


Digitalization
as the first step to smart factory and Industry 4.0
"The Digital Factory with Customized Software from PDA & MES"
Industry 4.0 requires flexible production and therefore has high demands on digitalization and data acquisition with PDA, MDC or MES.
For 35 years, COSMINO AG has been working on making production processes more transparent and effective through digitalization. Our software systems not only capture data – they also control manufacturing processes, material flow and production logistics, guide employees through the processes at the workplace and ensure a zero-error strategy.

Cosmino Panteo is a method for digitalizing your factory, in which the software solution is developed or assembled specifically for your requirements.
In doing so, we draw on:
a toolbox with a large number of function modules in the front and back end as well as reporting tools,
a unique operating and design concept that guides workers through the various data entry tasks,
35 years of experience in the development of software in the field of PDA & MES with numerous successful installations and international rollouts. So there is a high probability that we have already solved your requirement in a similar way.
A project with Cosmino Panteo is usually faster, and often cheaper than a standard software.
With Cosmino Panteo you dispense with the usual thousand setting parameters for functions that you do not need and whose impact on your process you cannot foresee.
When you upgrade your system, you don't simply purchase a license with a feature set that then only meets about 70 percent of your requirements and has 80 percent more features you'll never need. Instead, we expand exactly what meets your requirements and fits your process.
Cosmino Panteo is not a standard software solution, but a customized solution for your digitalization tasks.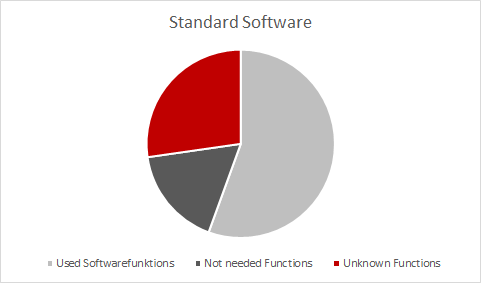 The employees responsible for analyses at our company have more than ten years of service with us. This competence proves its worth above all in projects in which we are allowed to contribute our experience and our understanding of processes.

35 years of software development with more than 150 installations in the areas of MES, PDA, MDC and CAQ: High availability systems, installations with over 1,000 workstations, rollouts to international locations…
It is never the first project, but the decades-long cooperation with a customer, through which we constantly develop. Our then first customers we still support today – now for 35 years.

Right from the pilot project to the rollout. You can rely on our team for everything from analyzing your requirements to consulting, design, agile development, installation, infrastructure recommendations, training, start-up support and ongoing support under a service contract.

Paving the Way to Industry 4.0
When developing our software solutions, we build on state-of-the-art, future-oriented technologies. Wherever it makes sense, we use our unique operating and design concept and a network of Digital Twins to best integrate your solution into your existing system environment. You can rely on Cosmino for the long term. This is our promise to you.
A selection of companies using Cosmino software: