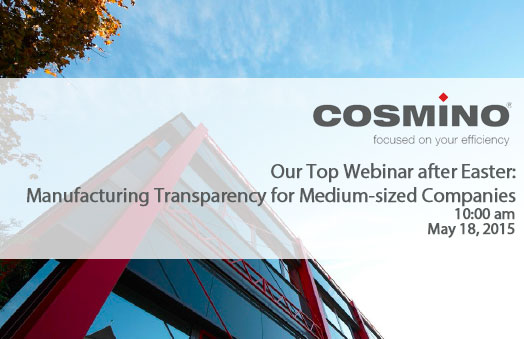 Two quick web sessions about the advantages of acquiring operation data (PDA & MDA) and the use of reporting systems (KPI) for the continuous improvement process and shop floor management
Development cycles are getting shorter and many industrial companies in Germany and around the globe have been presented with the challenge of meeting the increasing market expectations.
Transparency in the form of key performance indicators will become the decisive factor and continuous improvement will become a necessity to exist on the market.
Do you know how effective your production is in this moment?
Do you know the causes when one of your machines is idle?
Are you convinced of the effectiveness of your continuous improvement process?
We will show you how you can answer these questions with a YES in the future by using professional software tools.
On Monday, May 18 starting at 10 AM CET
Two quick web sessions of only 30 minutes each
Take part directly using the Web and your own telephone. Additional software is not required.
Registration is however required, but participation is free of charge.
Note: All three webinars are held in German. Please contact us if you are interested in schedules for English webinars.
Agenda
Transparent Manufacturing for Medium-sized Companies
Quick web sessions about the advantages of production and machine data acquisition (PDA & MDA) and reporting systems (KPI) for the continuous improvement process and shop floor management
10:00 AM: Reporting Systems and Improvement Management (in German)
I) The most important key performance indicators for production companies
Successful companies manage their manufacturing with a few key performance indicators.
Learnings from the development of key performance indicator management systems
Quick, live presentation of a key performance indicator management system with optimized assessments for shop floor management and continuous improvement process systems.
Which analyses show potentials that can be achieved quickly? How are achieved goals assured?
10:30 AM: Acquisition of operational data, machine data and traceability (in German)
Get operational data and respond. Get process, quality and energy data and monitor it for threshold values. Diagnose malfunction in the machines. How can the machine operators share their knowledge about the causes of a malfunction?
Also, learn about our human-machine interface (HMI) for the shop floor, which was awarded the Best-of-Industry prize.
The speakers:
Werner Pospiech, 53 years, is responsible for the distribution of MES solutions in the DA-CH region.
Matthias Kohbrand, 31 years, is responsible for marketing in the DA-CH region.
Participation
Registering as quickly as possible would be a good idea. Please indicate your name, job position and your company as well as the session slots that you would like to attend.
By email: info@cosmino.de
By telephone: +49 (0) 911 46 26 76 0
The web session will be conducted using Team Viewer. Participation will be over the Web, without the installation of software.
Participation is free-of-charge. Registration is required.