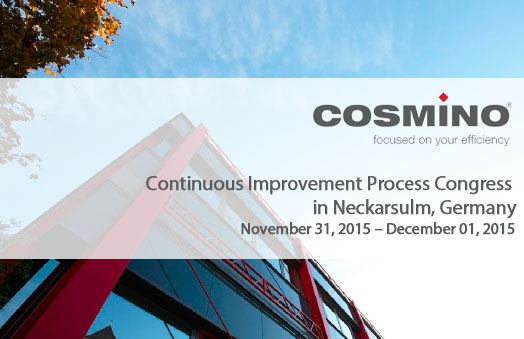 The Continuous Improvement Process (CIP) Congress is the largest German-language event in the field of continuous improvement processes. In addition to an overview of the current state of development and current trends in CIP, numerous providers will present their solutions in the accompanying exposition.
Date: November 31, 2015 – December 01, 2015
Event location: The Audi Forum in Neckarsulm, Germany
Organizer: The KVP Institut GmbH Gesellschaft für Beratung und Weiterbildung (the CIP Institute GmbH company for consultation and ongoing education)
Fees: € 839.00 per participant plus applicable VAT
COSMINO AG will have a booth at the congress on both days. Cosmino software modules that support manufacturing companies in their CIP efforts will be presented with:
• A measures workflow
• Means to objectively evaluate the success of measures
• And a module for standardized meetings that will organize themselves automatically
Naturally, visitors to the Cosmino booth will also have the option of learning about MES features like data acquisition, reporting systems and traceability. Cosmino not only support improvement processes for manufacturing but also many other areas of application. Because the software has been developed in a modular manner, users may freely choose which modules will be used.
The basic claim of the Cosmino software is consideration of the continuous improvement process as early as during the daily acquisition and analysis of performance and production related data. The continuous improvement process should:
• Rely on existing data and reports for objective evaluation
• Be accessible from anywhere on the shop floor
• Be accessible to the operators and also create knowledge
• Follow a pre-defined workflow
The Cosmino software covers these requirements by integrating MES features with the Continuous Improvement Process.
The Tracing Losses in Production using Lean Software lecture will be an excellent opportunity to learn more about the advantages of using software in the improvement process. It will be given by Frank Egersdörfer, CEO of COSMINO AG, on the second day of the Congress.
You will find more information and the registration form for the CIP Congress in Neckarsulm on the organizer's website: https://www.kvp.de/kvp-kongress/