By susanne.gutermuth@cosmino.de In
The data entry of OK quantities for an order and their automatic feedback to the ERP system are elementary features of any form of production data acquisition software. In most cases, the scrap quantities are also entered so that the stocks can be adjusted correctly in the ERP system. For this purpose, automatic inventory postings are made for all newly produced units as well as the issues of the preliminary product, including the materials used in the process from the bill of material BOM. In this context, manual effort is completely omitted. The data entry can even be optimized by accessing the unit counters in the machine.
Is that sufficient, however, or won't cases of nonconformity be found during the annual inventory?
The Cosmino software has long since offered the additional option for the entry of other consumable materials or the mounting of specific pre-products with their own serial number in an assembly group. A new feature of the current major release, which has been available since May 2021, is that faulty quantities can even be entered in the machine dialog for each individual component from the parts list of the current order.
Particularly with activities where several components go into an assembly group, in mounting for example, this level of detail in the data entry is crucial, as the article itself is not necessarily recorded as an "NOK" (not OK):
Did the technician assemble all the components before the defect occurred? Or is only a single BOM component scrap and the article itself is fine?
In the NOK case, was it possible for functioning components to be removed – or not installed in the first place - so as to use them for another part instead?
Has a defect in materials from the BOM been identified independently of an NOK article? Is it possible that the defect was caused by a supplier and they are therefore liable?
If you frequently ask yourself these questions and see them as a reason for inaccurate stocks, we will be pleased to hear from you. Our experienced PDA specialists will also solve your special use case.
By the way: With Cosmino MES Plus, much more is possible:
Recording of tools being used, batch numbers, product serial numbers,
Adding parts to containers or batches,
Recording the causes of scrap and downtime,
Display of checklists and warnings,
Calling up process-relevant documents ...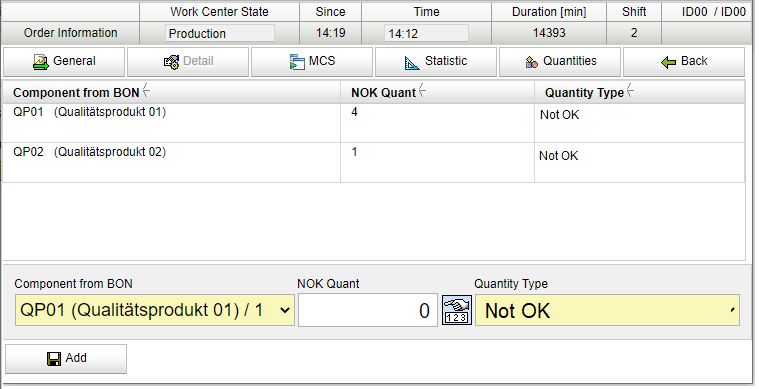 Illustration: This data entry interface is not used to enter NOK quantities of products, but quantities of components from the BOM.