By Bettina Schmidt In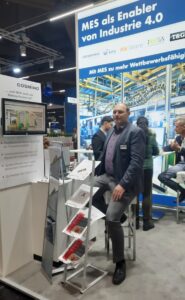 From November 8 to 10, 2022, the SPS smart production solutions trade fair took place at the Nuremberg exhibition center: for COSMINO AG, this was the appropriate platform to present the new developments in the Cosmino MES software.
Visitors were particularly interested in the topic of energy and material savings in production. At the booth, product manager Matthias Kohlbrand showed how potential savings can be identified by collecting and analyzing machine and energy data.
The use of Digital Twins as a data hub in heterogeneous system environments plays an important role here.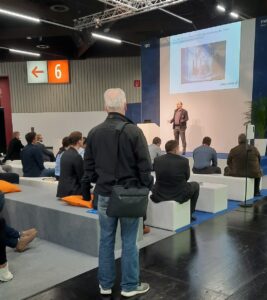 On Thursday, November 10, Matthias Kohlbrand presented to visitors at the Forum in Hall 5:
Using a Manufacturing Execution System (MES) Based on Digital Twins Into the Smart Factory
In his presentation, he showed that an MES not only collects data, but is also in constant alignment with planning, ERP, warehousing, logistics, etc. This is because the requirements for availability, process adaptability and usability have risen sharply and have thus led to an evolution of the system architecture.
You could not visit the trade fair, but you are on your way to Industry 4.0?
We would be pleased to show you more of our solutions in a first phone call or online meeting. Just get in touch with us. We are looking forward to meeting you:
info@cosmino.de