By Jatrina Chua In
In eastern Westphalia, between Bad Oeynhausen and Osnabrück, the so called "Küchenmeile" (kitchen-mile) is located along the Autobahn A30. The majority of companies of the German kitchen furniture industry are located in this area and they account for 2/3 of the industry's total sales.
Despite the competition in this relatively small area, the kitchen manufacturers are organized under the umbrella of the "A30 Küchenmeile e.V." (kitchen-mile association) which annually holds the world's largest kitchen trade fair. This is one of the showcase examples of "Made in Germany".
An efficient production is a must for the production of furniture in Germany. That is the reason why the maintenance service provider SDI Project Automation which supports numerous kitchen furniture manufacturers is using MES / MDA software systems made by COSMINO AG to acquire valuable data and facts. Störmer Küchen GmbH is among one of the companies that is now benefiting from the use of Cosmino MES Plus which has been installed in mid-2015.
In this year's "Küchenmeile" trade fair (September 19-25), SDI Project Automation offered the opportunity to experience the MES installation at Störmer Küchen GmbH l
ive in production. Themed "Industry 4.0 made in Germany", visitors could see for themselves how using Cosmino ensures the availability of machines and leads to an increase of efficiency.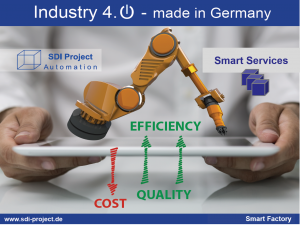 More on "Industry 4.0 – made in Germany" on the website of SDI Project Automation