By Jatrina Chua In
[vc_row][vc_column width="2/3"][vc_column_text]…and this November, we were able to celebrate 26 years of doing business with you. For the last 26 years, we have supported industrial companies in optimizing production using well thought out, mature IT tools and utilities. Many companies have become a COSMINO customer over the last 26 years, which speaks highly of our well-defined orientation toward customers. Looking back, we want to reflect on the year 2014 from our perspective.
January
The software solution packages Cosmino OEE (recording, assessing, and improving equipment effectiveness) and Cosmino Pro-Control (testing, assessing, and ensuring quality) were united into the new Cosmino MES Plus. Among others, this includes machine connectivity, automated reporting, traceability, condition monitoring, tool monitoring, preventive maintenance and more.
February
Numerous Asian companies participated in a two-day event titled "Improving Manufacturing Efficiency" which we jointly organized with the European Chamber of Commerce at the Mandarin Oriental in Manila. This was the first Cosmino information event outside of Europe.
March
A top-class panel of experts consisting of 30 professors and technical journalist awarded our Human Machine Interface (HMI) Cosmino WorkerPoint with the BEST of innovation prize for industry. Data can be entered and information accessed through integrated software interface and it connects operators with the MDE or MES systems. The WorkerPoint also enables remote diagnosis of the status of equipment (logs, analyses, etc.). It supports immediate adequate reaction to failures and correction of the preceding of the failure through a system-supported continuous improvement process.
April
Cosmino joined in the MES D.A.CH (German, Austria, and Switzerland) association. MES in an essential component of today's manufacturing industry and we be even more important with Industry 4.0
May
Automated checklists and further trigger events for Audits were added to the Cosmino Audit module.
June
Full-featured support for parallel processing of different products on a single production equipment was added to Cosmino MES Plus.
July
The Cosmino Measure App was completed. Improvement Measures can now be entered on the shop floor using iPads or iPhones, and supplemented with audio, image, and video information even in offline mode.
August
The Cosmino Plan Base module was significantly extended and in addition to many other features and improvements – now includes numerous variations of shift models.
September
COSMINO AG joined the Automation Valley Nordbayern (Northern Bavaria) in order to further strengthen our position in the region around Nuremberg.
October
Quality assurance with Cosmino Pro-Control was extended by the addition of hierarchal product pictures and an innovative and interactive entry of fault location using a grid system.
November
The second version of Cosmino Traceability was released and became available to all customers that require the tracing of products through the production and assembly process.
December
The results of our customer survey were presented. 1. How satisfied are you overall with the support from our customer service department? 1. How satisfied are you overall with the Cosmino software?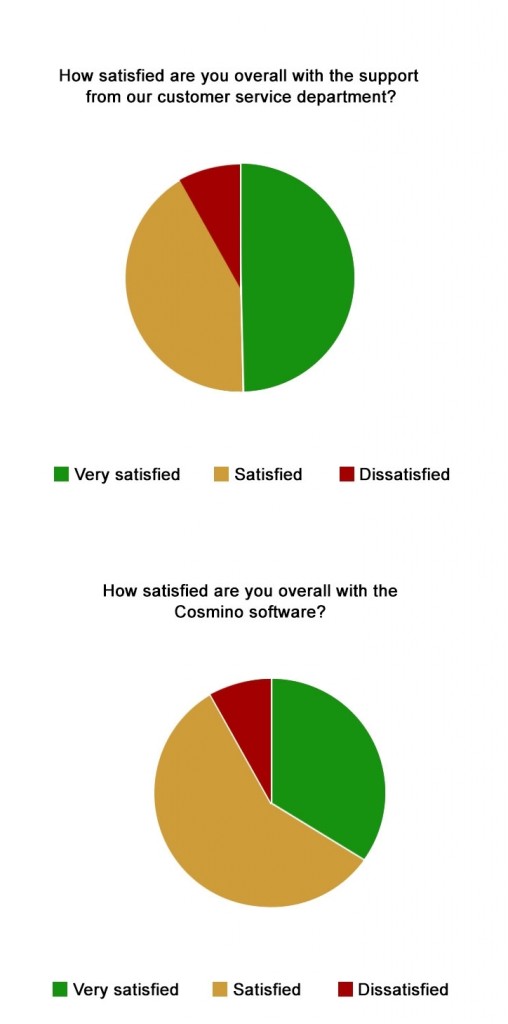 Even when 49% of our service support and 33% of our software received the best possible grade, we take your feedback seriously and will not rest on our laurels with this result. Satisfied is not enough for us, we want to exceed the expectations of our users. Our product management has taken up every specific point of criticism, is currently analyzing the cases and will suggest solutions for implementation in one of the next versions. We will make the results of the individual questions available to the participants shortly. Other Highlights from 2014 In 2014, our system was introduced in factories in Brazil, China, France, Germany, Mexico, Spain, and the US. We would like to express our sincere thanks to those customers for their trust in our software and their excellent collaboration in these projects. We would also like to thank our customers and interested parties for the many insightful conversations at technical exhibitions and information events. Throughout 2014 we have entered into strategic partnerships with various companies in the field of production. Watch out for more on this next year. Our gift to you is the support of people in need, especially children: For the third year now, we used the budget for Christmas gifts to help those people that need it most, especially children. This year, the German Cancer Aid foundation received our support for their effort in assisting children suffering cancer. In addition, we supported the valuable work of the local foundation Antenne Bayern Hilft e.V. At this point, let us close our review for this year. Our team wishes you, your families, and your employees a wonderful Christmas Season, with hopes for relaxation and recovery, and a Happy New Year in 2015.[/vc_column_text][/vc_column][vc_column width="1/3"][vc_widget_sidebar sidebar_id="sidebar-16" el_class="newsletter-sidebar"][/vc_column][/vc_row]