By Bettina Schmidt In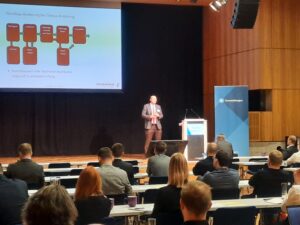 The 32nd German Assembly Congress was held in Augsburg on June 1 and 2, 2022, under the theme "acting instead of reacting – resilient assembly in uncertain times". Our Product Manager Matthias Kohlbrand made an important contribution with his presentation "How an Intelligent Software Solution Relieves Assembly Employees and Reduces Errors". He presented:
how assembly operations with high variance or batch size 1 take place smoothly and error-free,
how non-linear and multi-stage assembly processes are reliably controlled,
how the interaction between the assembly process and material supply works in the MES-controlled factory.
Fig.: Matthias Kohlbrand, Product Manager, Lecture ManufacturingManager, German Assembly Congress 2022
Interested participants were able to try out the advantages of the Cosmino ManufacturingManager for themselves at the Cosmino booth at the accompanying trade exhibition. With the support of the worker assistance system, they were guided to assemble a toy car without any errors. The ManufacturingManager as an important part of an MES system and intelligent I4.0 solution for production met with great interest. Thus, many contacts were made and ideas exchanged.
In September 2022, COSMINO AG will again participate in an SV congress: on September 20 and 21 in Nuremberg: 17th Congress Digital Factory. There, Matthias Kohlbrand will present the topic "Digital Twin as an Intelligent Controlling Data Platform".