By Matthias Kohlbrand In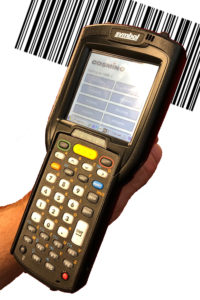 Software support in production goes far beyond workplace-related data recording. Cosmino MES Plus also supports the commissioning of components as well as goods movements, thus ensuring overall production control and traceability.
Among a variety of tasks, the use of practical handhelds with screens and hand-held scanners takes priority over a stationary recording terminal. For this purpose, an easily configurable hand-held surface was developed which can be used individually by the client for various tasks. In principle, this can be envisioned as a transaction which is stored behind each button on the screen. The display options are fewer compared to stationary and larger terminals. However, it is very easy to operate.
Components can be recorded e.g. with portable RF (radio frequency) guns in order to activate a function in the MES via the integrated touch screen. Areas of application are the storage and removal from storage of parts, palletisation or packing as well as the mobile recording of operating data and quality assessments. Important product information can also be displayed in a mobile manner by scanning with a handheld on the shop floor.
The portable device communicates with Cosmino MES Plus via http-REST and triggers the respective postings there. The traceability is guaranteed with a clear identification of units or batches by the scanner.
A few first clients are already able to use handhelds for postings. Such devices are ready for use and provide more areas of application in future projects.