By Bettina Schmidt In
From September 20 to 21, 2022, the trade congress "Digital Factory" was held in Nuremberg. COSMINO AG took the opportunity to draw attention to the two most important future topics of its roadmap to Industry 4.0 in a presentation as well as in the associated trade exhibition.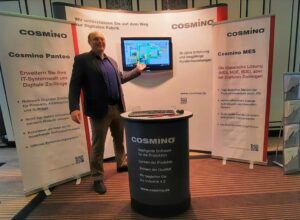 Digital Twins Control Manufacturing
The role of Digital Twins in regulating material flow and the manufacturing process is undisputed, and in an Industry 4.0 future, self-controlling production is set to become a reality. The congress participants agreed that it will still take some time to get there, but it is essential to prepare the participating systems and the required IT architecture for this step by step already now. Digital Twins as a data hub enable systems to interact in a typical heterogeneous system environment. In this way, information is transferred to wherever it is needed. "We are not only talking about key figures and data for visualization, but also specifications and other data for controlling production processes and logistics can be made available on Digital Twins even for each individual serial number and distributed to all systems in the process," states Matthias Kohlbrand, Product Manager at COSMINO AG.
Incidentally, the congress confirmed what COSMINO AG also knows from its own customer projects: many companies are already dealing with Digital Twins and with the task of self-controlling production.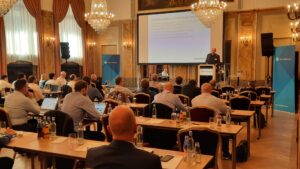 User-friendly Operating Concepts for the People Using the MES Dialogs
Despite cross-system communication, people will still be part of the manufacturing process, whether at the machine, in assembly, in the warehouse or in logistics. To be able to perform the right tasks, they need information. That is why modern and self-explanatory input interfaces in the MES are another future topic of COSMINO AG. At the Digital Factory Congress, a prototype and the operating concept for the next generation of MES data acquisition interfaces were presented for the first time. Not only the modern appearance, but also the integrated worker guidance and the easy customizability of the MES dialogs appealed very much to the visitors at the trade exhibiton.
What Are Your Concrete Steps on the Way to Industry 4.0?
As an MES provider with almost 35 years of experience, the COSMINO AG team already supports many industrial companies on their way to
Industry 4.0
.
We would be happy to show you
more of our solutions
in an initial phone call or online meeting. Feel free to contact us. We are looking forward to meeting you.