By Jatrina Chua In
[vc_row][vc_column width="2/3"][vc_column_text]
In this issue:
Cosmino celebrates its birthday
Report on the Roadshow in Leipzig
Cosmino MeetingManager
[/vc_column_text][vc_column_text]
25 years COSMINO AG
On the 1st November Cosmino celebrated its 25th anniversary. A quarter of a century flies by fast. It all started in a small cozy basement room where 3 people began developing software. In those days under the name of Data Input, the company specialized in the entry and analysis of machine-readable data collection sheets for production. Nowadays we apply the wealth of experience gained from many projects big and small. We have installed a reporting system for a customer with more than 50 plants as well as an enterprise wide complete system installation for 7 sites all over Europe. Our reach has gone as far as South America where we set up quality control and fault acquisition in assembly for a new built factory. The small provider for quality and data entry software has grown into a successful company which has grown its customer base and its portfolio to be an MES provider today.[/vc_column_text][vc_column_text]
We would like to take this opportunity and thank our clients and the incredible team that has made all this possible. May we all enjoy many innovative years to come!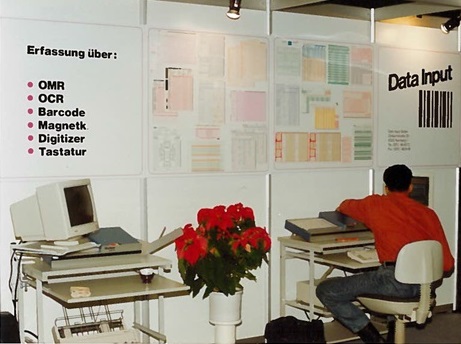 Our first exhibition in 1989
[/vc_column_text][vc_column_text]
Roadshow in Leipzig 17th October 2013
Back from Leipzig we can report another successful information event. This time the topics were specifically targeted at plant and production managers. Primary focus was placed on the compilation of crucial key metrics and on addressing typical operational challenges. In addition, we also covered reporting, improvement management and data collection utilizing various modules of the Cosmino Suite. All participants had the opportunity to test the online data acquisition using Cosmino WorkerPoint on tablets. We would like to express our gratitude towards the representatives of Woco, one of our clients. During the event, they were available to answer questions and give advice to interested participants.[/vc_column_text][vc_row_inner][vc_column_inner width="1/2"][vc_column_text]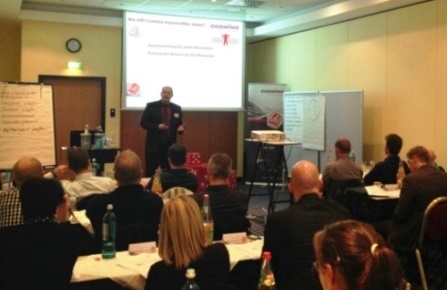 Roadshow Leipzig 2013
[/vc_column_text][/vc_column_inner][vc_column_inner width="1/2"][vc_column_text]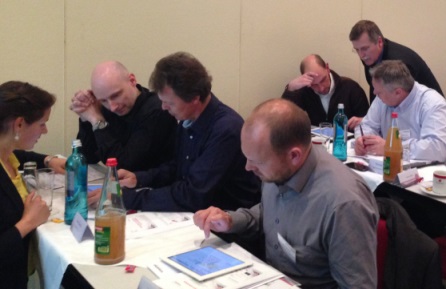 Practical demonstration with tablets
[/vc_column_text][/vc_column_inner][/vc_row_inner][vc_column_text]We say thank you for the active participation and the constructive technical discussions during the event. Here are some comments from the event: I liked: "...food for thought and the presented ideas and solutions" "...the logic of the reports" "...the smart idea of MeetingManager"[/vc_column_text][vc_column_text]
And now for everyone: MeetingManager | A module of the Cosmino Suite

Don´t you believe that an optimum meeting culture can also be an improvement? Standard regular communication is the most effective way to exchange information. It is based on standardized (meeting) procedures and pre-defined time frames. The Cosmino MeetingManager module enables a standardized and easy planning of meetings and a quick compilation of the minutes. The unique interactive agenda of the MeetingManger, allows adherence to pre-defined communication schedules through standardized moderator support while MeetingManger takes care of time management. Any improvement measure resulting from a meeting can be easily created and is then automatically distributed to all attendees along with the agenda and meeting minutes. Advantages of the Cosmino MeetingManager:
Save time in preparation and follow-through
Support the moderator in conducting the meeting
Avoid manual creation and archiving of the minutes
Promote active participation in the improvement process
There are several further helpful features which we would gladly introduce you to.[/vc_column_text][vc_button title="Read more" target="_self" color="wpb_button" icon="none" size="wpb_regularsize" href="https://www.cosmino.de/en/mes-software/meeting/" el_class="custom_btn2 btn_space"][vc_column_text]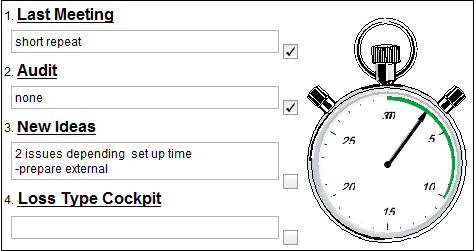 Protocol with links
[/vc_column_text][/vc_column][vc_column width="1/3"][vc_widget_sidebar sidebar_id="sidebar-16" el_class="newsletter-sidebar"][/vc_column][/vc_row]