By susanne.gutermuth@cosmino.de In
Recording downtimes at a machine by the "Cosmino OEE" module allows calculating figures, such as the OEE, Overall Equipment Effectiveness. The analysis of the recorded downtime types with Cosmino Reporting also shows a machine's potential for improvement, including the lost contribution margin upon request.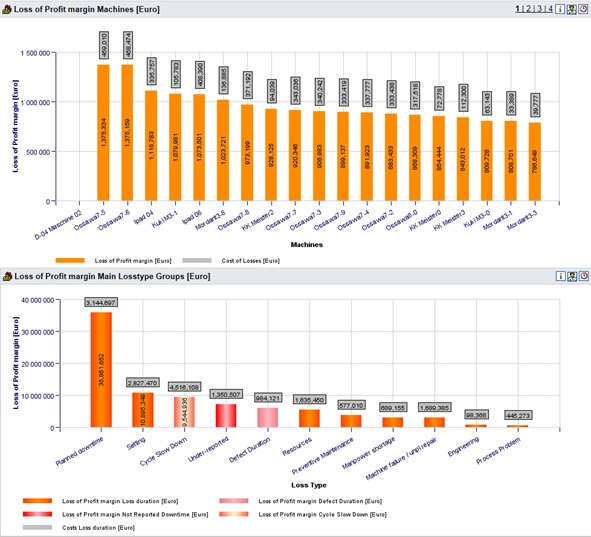 Illustration: Lost contribution margin for machines and loss type groups

So far, the causes for such runtime losses are usually supplemented manually by the system operator, as the connected machine provides the time stamp, but rarely the reason for a downtime.
To minimise the recording effort resulting from this manual "determination" with a so-called loss type, only downtimes longer than x minutes are usually specified with the respective cause. For shorter downtimes, so-called mini stops, however, it is sufficient to know the sum of the lost runtime. This time is reliably determined by means of the transfer of machine data.
Function 1: Subsequently determining mini stops with a minimum of time spent
Many short mini stops also contribute to a poor OEE. If these short interruptions at a machine are restricted to only a few problems, they can therefore be determined collectively at the end of the shift.
For this purpose, you select a specified number of mini stops on the online dialogue, e.g. the last five mini stops, or a period of time, e.g. all mini stops of the last three hours. For this selection, the type of loss is then defined.
Function 2: Flexibly setting the maximum limit for mini stops
Where the reasonable maximum time limit for a mini stop is, often depends on the applied manufacturing process and the modernity of the workplace. Especially with bottlenecks and very powerful machines, a minimum loss of runtime can already be relevant for recording, whereas the maximum limit of a mini stop can be set to a considerably more generous limit for other workplaces.
For these reasons, the current version of Cosmino OEE allows to define the maximum duration of a mini stop separately for each workplace. This is carried out in the configurations of the online dialogue.
Moreover, it is now possible to individually determine the automatic designation of the mini stop per machine. This makes sense especially if short interruptions at one piece of equipment have the same cause.
These two functions for the best possible recording of mini stops are only two examples of the high maturity level of the Cosmino OEE solution. Since its first productive use 18 years ago, the "Cosmino OEE" software has already been constantly optimised so that this module is considered as being one of the most powerful OEE tools available on the market.